Thesis Defense: Jim Yates, Muhammad Ishfaq and Fahmida Sultana!
01/10/2019

Three of our MEDfOR students defended their thesis at University of Tuscia.
Jim Yates and Muhammad Ishfaq graduated on the 25th September 2019, and Fahmida Sultana on the 27/09/2019.
Congratulations!!!!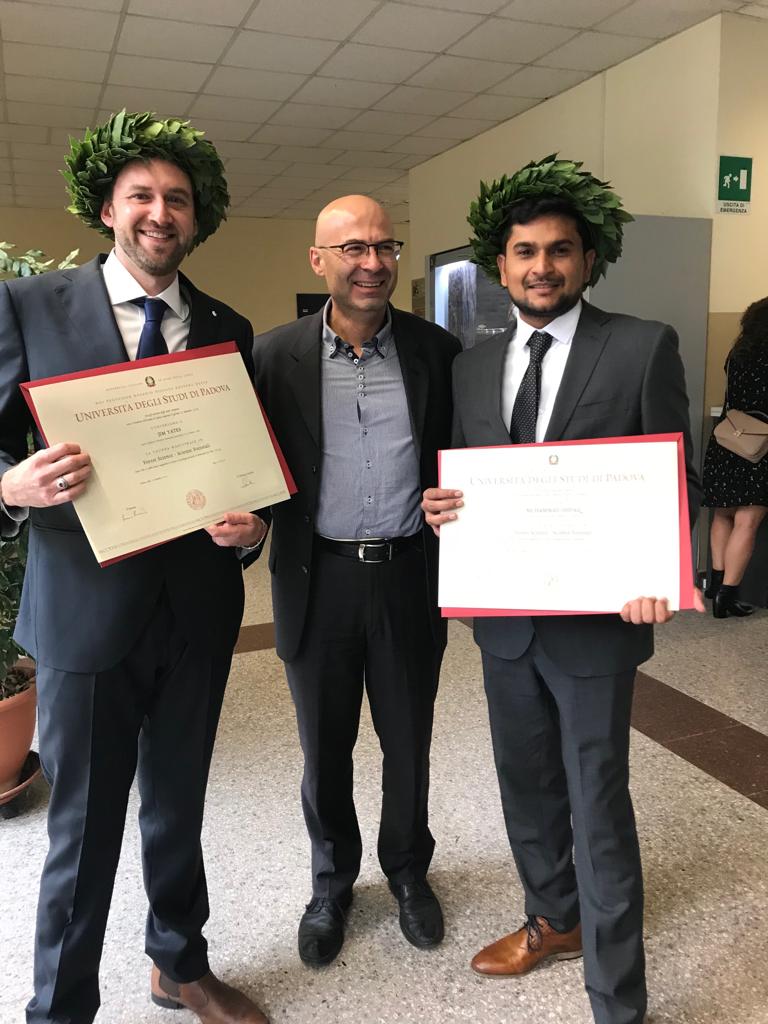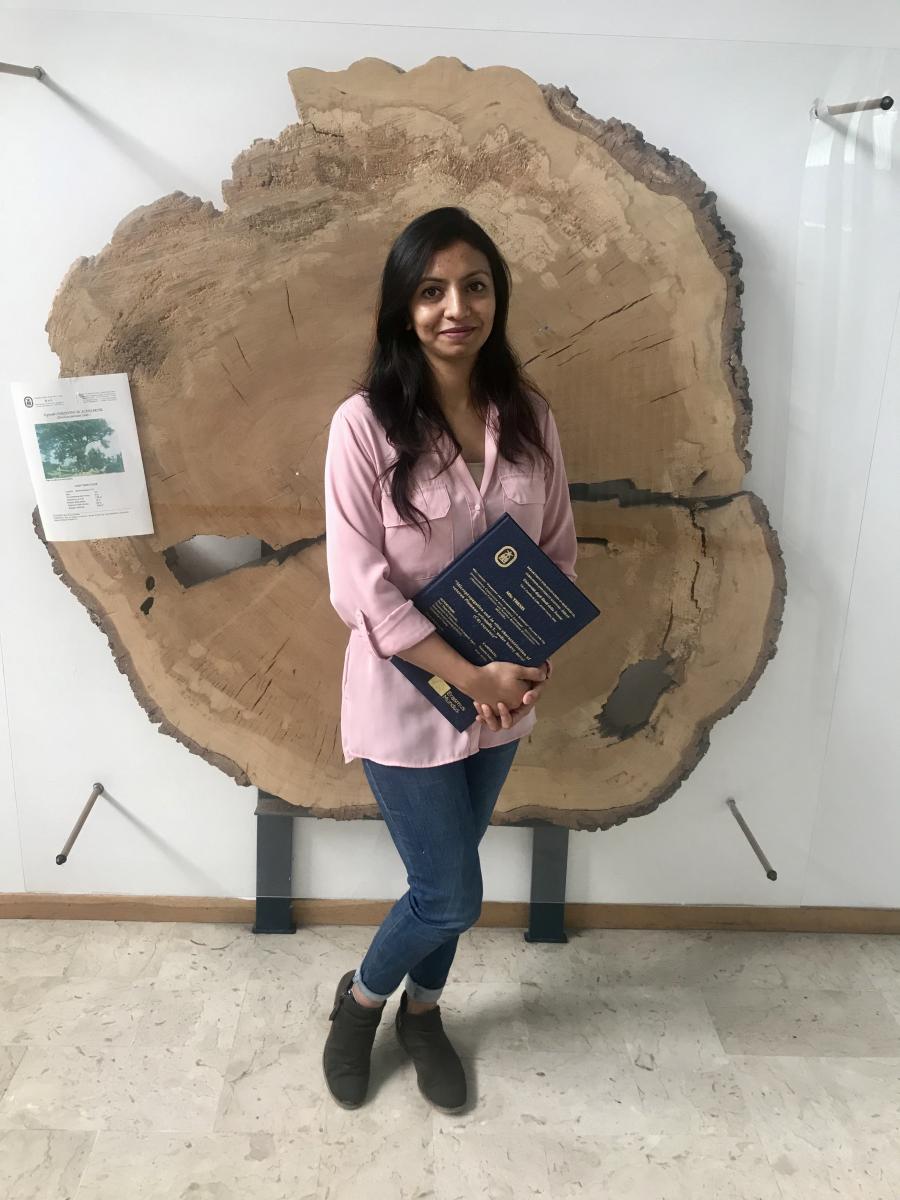 Abstracts are below:
THE ROLE OF FORMAL INSTITUTIONS IN FORESTS DECLINE: ANALYSIS OF MECHANISMS, EFFECTS AND THEIR EVALUATION
Jim Yates
Globally, forests are estimated to be declining 0.13-0.08% annually with higher rates of decline experienced in tropical countries. Critical to the forest decline phenomenon are its associated causes, which are numerous, complex and having simultaneous and often compounding effects. Assuming "forest decline" as the common denomination of these global phenomena, its numerous causes, agents and effects are critical issues that must be investigated further. Here we view forest decline as a bi-product of ineffective or absent sustainable forest management paradigms where formal forest institutions are recognised as the relevant and sometimes de facto ministerial or administrative authority for forest management. Because institutions play a key role in developing and implementing forest policy, institutional failures are a vital but often-overlooked dimension of the processes that drive forest decline. This thesis offers a systematic theoretical exploration of the linkage between institutional failure and forest decline, including an examination of policy goals and state changes to the forest ecosystem through the application of a modified conceptual framework. Our DPAESMR (drivers-policy-actions-effects-state-monitoring-response) modified from the original DPSIR (drivers-pressures-state-impact-response) framework, aims to demonstrate differences between policy goals and state changes observed through implemented actions and their effects, derived from established drivers and highlights the importance of monitoring and reporting. We test this framework across four specific regional case studies. Each having identified decline phenomena despite, in some cases, having robust formal forestry institutions. Initial analysis suggests several institutional failure mechanisms associated with capacity, dialogue, resources, dependency, information and coherence.
Keywords: Forest decline, Institutional failure, Forest policy, Forest management, DPSIR
IN VITRO CHARACTERIZATION OF VETERAN MICROPROPAGATED PLATANUS ORIENTALIS UNDER HEAVY METAL (CD) EXPOSURE AND BIO-INOCULATION
Fahmida Sultana
Abstract: The plane tree (Platanus orientalis) is one of the long-lived trees in the Mediterranean basin and hence has become the centre of interest from the ancient time. In the Lazio region of Italy, it is considered the most characteristic species present in the historic villas. Moreover, currently it is widely planted in the urban areas considering its tolerance to pollution. However, the aim of this study is to evaluate the success of the micropropagation method applied to Platanus orientalis to maintain genetic fidelity of the ancient genotype taken from Villa Lante, Italy and to explore the potentiality of bio-inoculation with beneficial bacteria (i.e. Pseudomonas fluorescens) in the performance of heavy metal (Cadmium) tolerance to plant. In this regard, a total of 48 micropropagated plants will be investigated under six treatments of different Cadmium (Cd) concentration along with potential bio-inoculation. It is expected that the study result will explore the efficiency of micropropagation method employed in Platanus orientalis and the potentiality of bio-inoculation for phytoremediation of heavy metals.
Key words: Platanus orientalis, micropropagation, Cadmium (Cd), Plant Growth Promoting Rhizobacteria (PGPR), phytoremediation.
DOES THE NATIONAL AND PROVINCIAL FOREST POLICIES IN COHERENCE WITH UNSPF GOALS? A CASE STUDY OF PAKISTAN
Muhammad Ishfaq
UNCED Rio de Janeiro summit 1992, was recognition of climate change phenomenon and understanding common responsibility of international community to enhance coordination, cooperation and synergies to tackle the situation. Forests are important in enhancing biodiversity, socio-economic benefits and climate change mitigation. FRA 2015 report exhibited that global net forest loss rate was 0.13% from 1990 to 2015. Realizing criticality of circumstances, UN devised strategic plan for forests (2017-2030) for SFM. Coherence of UN and national forest policies are imperative for achieving supranational SFM goals. We chose case study of Pakistan to analyse level of coherence in adoption and implementation of forest policies with UNSPF Goals. We performed content analysis to analyse coherence of international and national forest policy documents and comparative analysis to see level of coherence of goals for implementation of policy at national level. The results are significant for explanation of level of national forest policy coherence with UNSPF goals. The Risk ratios (RR) of 0.86, 1.15 and 0.85 for thematic areas 1,2 and 5 shows high coherence while RR 0.45, 069 and 0.21 for thematic areas 3,4 and 6 demonstrate low coherence towards achieving UNSPF goals. It provides insight to policy makers in formulation of future forest policies.
Keywords: Forest policy, Coherence, UNSPF goals, Sustainable forest management, Content analysis.